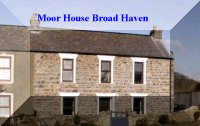 Beach Riding
Morning rides
9.45 am 1 hour ride 9.45 am 2.5 hour ride 11.00 am 1.5 hour ride
Afternoon rides
2.00 pm 2.00 pm 4.00 pm
Times may vary a little to catch the correct tide state and allow beach rides.
East Nolton Stables are fully licensed with qualified WTRA and BHS instructors always available.
We span the whole range of riding experience and ability. Everyone can enjoy the delights of the shady woodland, coastal fields and when the tides are suitable, Sandy beaches.
East Nolton Riding Stables
01437 710360
Fax: 01437710967 www.noltonstables.com
Accredited by the Wales Tourist Board
Wales Trekking & Riding Association Approved
********************************************************************************
Discovery Walks of The Havens and Pembrokeshire
Discover more of the area you are staying in, its history, wildlife and legends.Take a guided walk around the small village of Little Haven, hear about its histon architecture and village characters. A two hour walk, most Monday evenings, phone for details.
If you want to explore away from the Havens, there are guided all-day walks of Skomer Island, The Preseli Hills and The Dale Peninsula.
Shorter walks include :
St Davids Head - 2 to 3 hours, Canaston Woods - 2 hrs.
We can also tailor a walk to your specifications : e.g. Coastal or Inland, Mini Beast Safari, Bat Hunting etc.
You choose!
Please phone Robin on 07899 718045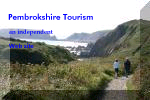 For further details of the walks, fees and availability.

BROADSIDE

Boat Charter

Angling, Diving & Pleasure Cruises

Boat available all year for full day charters??

Frequent 2 & 4 hour

fishing trips available June - August, ir trip £10 per adult & £7.50 / child ir trip £20 per adult & £15 / child equipment provided. Depart from Dale, (An additional charge may be made for lost equipment)
Contact Andy on 07768 935681